Site Aerial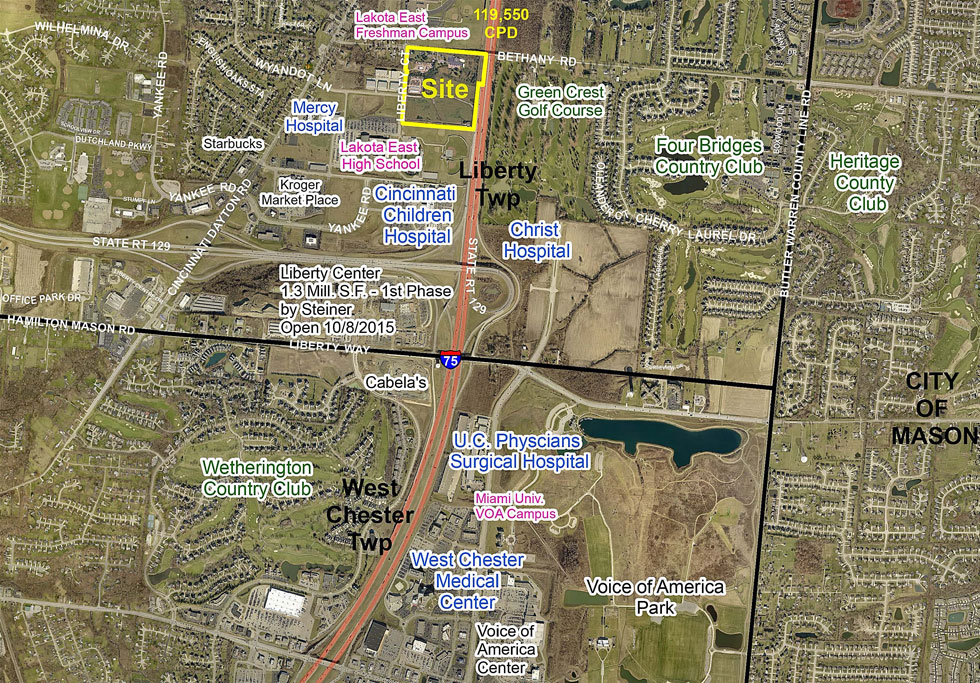 Site Facts
Zoned for commercial use - will subdivide
Set amid three of Cincinnati's most affluent and fastest growing suburbs: West Chester, Mason, and Liberty Township.
Located in the heart of Liberty Township which sits in the bullseye of the Cincinnati - Dayton metroplex with unparalleled growth projections.
Over 1,200' of Interstate 75 frontage that has traffic counts in excess of 120,000 Cars Per Day. The Interstate 75 exposure is extraordinary since the Site is bordered to the north by the wide open athletic fields of the Lakota Freshman Building and to the south by the wide open athletic fields of the Lakota East High School.
Great access to the Site is provided directly off of Bethany Rd. and by Cincinnati-Dayton Rd. to Wyandot Ln. two blocks directly to the site.
Two regional hospitals located within one mile plus the new 125,000 square foot Christ Hospital will open during the winter of 2017.
Located within 5 miles of over 8,000 students (Lakota East, Lakota West, and Mason High School. All of which are top rated in Ohio and regularly recognized for their numerous academic achievements.
Within one mile of extensive park systems which include Voice of America Metro Park and higher education opportunities like Miami University's VOA Campus.
Site is positioned less than one-half mile from Steiner's "Liberty-Center" which is a high - end, mixed use commercial development that just opened the first phase (1.3 M square feet - $350 million) in October of 2015. Steiner has already commenced $120 million dollars of the second phase. There is a total of 2.5 million square feet in the planned three phases of Liberty Center.
Cabela's just opened at the Liberty Way, I-75 interchange and is right across Liberty Way from the new Liberty Center.